Husker Women Struggle In Loss On The Road
The Nebraska Women's basketball team struggled with arguably its worst offensive performance of the season, falling 59-to-47 at Indiana yesterday (Sunday) afternoon. Nebraska slips to 16-and-7 on the season and 7-5 in the Big Ten.
Husker's Strong Performance Not Enough vs Oklahoma
Despite posting the second-best team score in school history, three top-three individual finishes and a number of personal-best scores, the No. 6 Nebraska men's gymnastics team (5-4, 0-1) fell to the top-ranked Oklahoma Sooners (8-0) on Saturday night.
Shields Out Of Hospital, Following Concussion Protocol
Nebraska senior Shavon Shields is out of the hospital following a nasty fall in the game against Rutgers. Shields went up to block a shot by Rutgers' D.J. Foreman. Shields flipped over Foreman's back and landed on his head and shoulder.
Broncos Win Super Bowl; Will Manning Retire?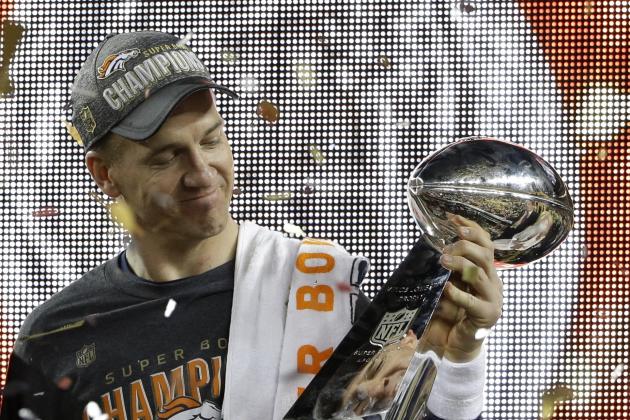 If this was Peyton Manning's final game, he's going out on top. The 39-year-old Broncos quarterback said immediately after winning Super Bowl 50 that he was taking some advice from Tony Dungy....
MEN'S BASKETBALL: Huff Scores 28 To Help Creighton Past DePaul
Cole Huff scored a season-high 28 points on 9-for-11 shooting as Creighton dominated DePaul 88-66 on Saturday. Geoffrey Grosselle added 15 points and 11 rebounds for Creighton (15-9, 6-5 Big East).
MEN'S BASKETBALL: UNO Falls Short To Denver
Christian Mackey scored 14 points and Denver outlasted Omaha 75-72 on Saturday. Denver (13-11, 5-6 Summit) led by six on Nate Engesser's layup with 3:48 to go, but Omaha tied it at 68 on Devin Patterson's jumper with 1:45 left.
Husker DL Coach Hughes Will Not Return for 2016
University of Nebraska head football coach Mike Riley announced Friday that assistant coach Hank Hughes will not return to the staff in 2016.
Take Picture With World Series Trophy
Baseball fans will have an opportunity to take a picture with the 2015 World Series trophy. The Kansas City Royals will visit the Bob Devaney Sports Center next Tuesday, Feb. 9. The trophy will be available from 11 a.m. to 1 p.m.
Lincoln Area Athlete Sign Letters Of Intent
Several Lincoln area boys and girls high school athletes signed letters of intent to compete at the college level during the winter signing period on Wednesday. Schools range from the Division I, II and III levels to NAIA.
HUSKER FOOTBALL: Hovey, Keels Leaving Nebraska
Nebraska wide receiver Lane Hovey is transferring to Montana for his final season of football, and reserve defensive lineman Joe Keels is transferring to Eastern Michigan. Head Coach Mike Riley announced the departures on Wednesday.
HUSKER MEN'S BASKETBALL: No. 4 Maryland Holds On To Beat Huskers
Freshman Diamond Stone had 16 points, 10 rebounds and a season-high eight blocks, and No. 4 Maryland held off Nebraska 70-65 on Wednesday night. Melo Trimble had 14 of his 20 points in the second half as the Terrapins overcame a slew of turnovers to remain a half-game behind conference co-leaders Indiana and Iowa.
NWU MEN'S BASKETBALL: Bardsley's 29 Helps Wolves Defeat Concordia
Nebraska Wesleyan exploded for 61 points in the 2nd half as the Prairie Wolves picked up an important 96-83 victory over Concordia University on Wednesday night (Feb. 3) in GPAC men's basketball action at Snyder Arena.
MEN'S BASKETBALL: Mavericks Suffer Road Loss At Western Illinois
Garret Covington scored 23 points, and Jabari Sandifer added 17 points and six assists to lead Western Illinois to an 83-76 victory over Nebraska-Omaha on Wednesday night to snap an 11-game skid.
MEN'S BASKETBALL: Creighton Falls At No. 3 Villanova
Kris Jenkins scored 22 points, Jalen Brunson had 16 and No. 3 Villanova rolled past Creighton 83-58 on Wednesday night. Josh Hart added 13 points and nine rebounds for the Wildcats (19-3, 9-1 Big East), who have won 11 of 12.
Husker Football 2016 Recruiting Class Announced
Head Coach Mike Riley announced the 2016 recruiting class today which is being rated as a Top 30 class in the nation by various recruiting sites. Among the players singing with Nebraska, two are from the Cornhusker state.